From lockdown reflections to royal connections, the last month has been an interesting mix for Rural Leaders. We hope you've managed to weather the last while well.
As the Covid-19 situation evolves we're working to ensure the continuity of quality in our programme delivery. In line with this, there has only been one small change to a programme currently running.
We're receiving registrations for our new 2022 programme – Value Chain Innovation. Scroll down for more details, application close dates and meet the programme's facilitators – prof. Hamish Gow and Phil Morrison.
Kate Scott has been elected as the new Board Chair for the New Zealand Rural Leadership Trust. Kate will replace outgoing Chair Andrew Watters. On her appointment, Kate said, "It is a real privilege to be able to continue the exceptional work of previous chairs, including Andrew, who has led the organisation through some significant growth over the past few years."
Have a listen to our 'Ideas That Grow' podcast below. We interviewed 2015 Nuffield Scholar, Dan Steele during lockdown.
We cover three reports from recent Kellogg graduates, well worth reading. And places are filling for the January 25th, 2022 Lincoln Kellogg intake, and the May 3rd, 2022 Whanganui Regional intake, so now's a good time to register.
We also interviewed 2008 Nuffield Scholar, Craige Mackenzie on his precision farming journey.
We hope you enjoy this issue of The Rural Leader.
The Team at Rural Leaders.
Kate Scott, new NZRLT Board Chair.
New Zealand Rural Leadership Trust's governance remains in good hands with the recent election of Kate Scott to Chair.
Kate replaces Andrew Watters who commented, "In Kate we can see the next generation of Governors leading the organisation as we seek to attract and transform talent through our world class… programmes."
Blue Ducks and greener farming.
In this month's episode, Bryan Gibson talks to 2015 Nuffield Scholar Dan Steele.
Dan runs Blue Duck Station on the Whanganui River, with his wife Sandy, kids Blue, Snow, Forest, River, and the Blue Duck Team.
Farming non-intensive sheep and beef, Dan has diversified to also offer tourist accommodation, hunting experiences, and manuka honey.
Dan believes there's plenty of room for us to improve the way we protect and capitalise on our unique place in the world.
Read Dan's Nuffield research paper "Why being true to brand New Zealand is the best option for New Zealand agriculture" or watch his presentation at the Nuffield conference.
Remarkable results: The Mackenzie Study Report.
Last month The Rural Leader covered some of the findings from The Mackenzie Study progress report, this month it's the full report.
From jobs created to businesses started, the achievements of Nuffield Scholars in Food and Fibre are presented here.
This study has been conducted by Otago Business School and the Department of Economics on behalf of The Mackenzie Charitable Foundation and The New Zealand Rural Leadership Trust.
Kellogg Rural Leadership courses 2022 update.
Our Kelloggers work on individual research projects between phases one and three of the Kellogg Rural Leadership Programme.
These projects are designed to demonstrate the application of research, presentation, and critical analysis tools.  
Here are three reports from recent graduates: Madison Pannett, Greg Hamill and Kathryn Reid.
Madison Pannett – Generation Z. 
With critical labour shortages plaguing food and fibre, Madison's report takes a closer look at how and why the sector's careers need to be more aligned with this increasingly influential generation's values. 
Greg Hamill – Bobby Calves.
Daring to investigate one of the primary sector's most ethical debates, Greg's report lays out the value Bobby Calves add to the New Zealand economy, and some of the challenges facing an industry under increasing pressure to change. 
Kathryn Reid – Honey Industry. 
The government has tasked the honey industry with increasing export earnings by $65 million over ten years. Kathryn's report undertakes to determine whether the industry is set up to achieve this – amid significant industry challenges. 
The Value Chain Innovation Programme: Applications now open.
Programme Dates

11 January – 20 February 2022
Applications close: 28 November 2021.
Meet our programme facilitators.
Sir Graeme Harrison Professorial Chair of
Global Value Chains and Trade
at Lincoln University
Hamish has extensive research and industry experience in agribusiness innovation, entrepreneurship, strategy, and rural finance.  
 
Currently serving as the Sir Graeme Harrison Professorial Chair of Global Value Chains and Trade at Lincoln University, he is uniquely positioned as a global leader and thinker in value chain design, innovation, and entrepreneurship. He was recently the Agribusiness Design Thinker in Residence at Meat and Livestock Australia and previously led the establishment of the Global Food Safety Partnership at the World Bank and Global Markets Program at GFSI. 
 
Hamish continues to foster strong connections to industry. He is a member of the MPI Strategic Science Advisory Group for MBovis, Technical Advisory Group for Regenerative Agriculture and Supply Chain Integrity Programme. Previously, he has held faculty and staff positions at Massey University in New Zealand, the University of Illinois, Michigan State University and Cornell University in the USA, KU Leuven in Belgium and the Slovak University of Agriculture in Slovakia.  
 
Hamish is a 2011 recipient of the Effective Practice Award from the Sloan Consortium. Over the past 20 years he has led market development projects in over 50 countries and consulted to the European Commission, OECD, IFAD, USDA, USAID, UNIDO, FAO, World Bank, and numerous Multinationals, farmers' organisations, and governments. 
Phil is currently based in Invercargill and has been a free-lance consultant since February 2014. At that time, he established Across Performance Limited while concluding his MBA research at Massey University.  
 
In recent years, Phil's work has included delivery of leadership development training, postgraduate business education in strategy and innovation, and facilitation of strategy and co-innovation workshops in a variety of contexts. Phil currently co-chairs Southland's Regional Forum, framing advice on freshwater management for the Regional Council. 
 
From 2011 Phil worked for three years as a Senior Lecturer and Project Manager for Massey University's Centre for Defence and Security Studies. In this capacity he managed the university's commercial relationship with the Royal Brunei Armed Forces (RBAF), including programme development, coordination, and delivery of teaching activities in Brunei. Phil's teaching activities also extended to delivery of postgraduate education to the New Zealand Defence Force's Joint Command and Staff Course. 
 
Previously, Phil enjoyed a 25-year career as a Regular Force officer with the New Zealand Army, progressing through a variety of command, staff, instructional appointments, and deployments. Highlights included three years as unit commander of an Engineer Regiment, a three-year posting to Canberra as Military Attaché at the NZ High Commission, and a year studying at the Singapore Armed Forces' Joint Command and Staff College.  
A Royal Connection: The CSC Global Leaders Series Launch.
Over 200 people, from 28 countries jumped online for the formal launch of the CSC Global Leaders Series last week. It covered many of the challenges facing the Commonwealth and the world through a leadership lens.
With HRH The Princess Royal online too, it was valuable for the profile of both Nuffield and Rural Leaders.
Craige Mackenzie: Right place, right time.
Rural Leaders talked to 2008 Nuffield Scholar Craige Mackenzie about change, technology and precision farming.
His business, Vantage NZ, helps remove the complexity around technology-enabled change, while the family farm demonstrates precision in practice.
But as Craige explains, what really matters is mindset.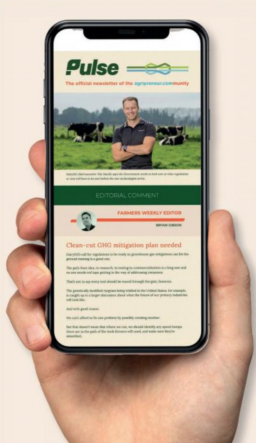 Global HQ – Exclusive Rural Leaders readers, Pulse discount offer.
Rural Leaders' Service Partners GlobalHQ, have recently added 'Pulse' to their line-up of publications.
Pulse is a daily newsletter that informs and connects the primary sector with in-depth news and commentary, straight from the Farmers Weekly, WeatherWatch and AgriHQ newsrooms.
Sign up to Pulse before September 24th and receive a 50% discount off your yearly subscription, making it $90 + GST instead of $180 + GST.
To activate this offer simply click below and enter the promo code Rural Leaders.
CLICK HERE to subscribe to Pulse
You can view a sample of Pulse here
Generation Change
Young women. Bringing purpose to food and fibre.
A one-day workshop and support community preparing young women for a life of meaningful work and impact in the primary sector.
When – 29 September 2021.
Where – Christchurch.
Find out more – https://www.awdt.org.nz/programmes/generation-change-2/
Call to all scholars: Update your details.
It's important for us to keep your contact and other details up to date. Please take a few minutes to fill out our form by clicking on the relevant logo below. This information will not be used outside of our organisation without your permission. Thank you.
Our programmes work in partnership with some of New Zealand's leading agribusiness organisations – click here for more.​