Applications for the next Lincoln-based programme close
midnight Sunday, 1 May 2022.
Over the past 40+ years the Kellogg Rural Leadership Programme has delivered some great leaders for the primary industries and rural New Zealand.
The Kellogg alumni now number just under 1000, and are well represented in rural community, industry, business, farm innovation and political leadership.
2023: Kellogg Programme 49
Richard Dawkins
Grace McLeay
Laura Hancock
Vanessa Thomson
Anna Sing
Kathryn Broomfield
Tracey Reynolds
Kate Gower-James
Duane Redmond
Sol Tejada
Kristopher Bailey
Jemima Snook
Brian Henderson
Steve Hydes
Emily Clark


2022: Kellogg Programme 48
Christie Burn
Marcus Tietjen
Jessica Wilson
Cameron Craigie
Rosalie Hyslop
Dustin Rothstein
Sarah McKenzie
William Wright
Yvette Jones
Rebecca Begg
Cameron Burton
Megan Fitzgerald
Emma Hinton
Nicki Davies
Hamish Murray
2022: Kellogg Programme 47
From back row left:
Suzanne Hepi
Sam Mender
Angus Thomas
Braydon Schroder
Benjamin Fraser
Lauren Woolerton
Blake Irving
Angela Ibbotson
Kristen Robb
David Thomson
Sarah-Jane Powdrell
Kiritahi Firmin
Abdul Jabbar
Harriet Gibson
2022: Kellogg Programme 46
Ross Neal
Coralie de La Fage
Richard Sim
George Fox
Nathan Chestnut
Andrew Myers
Luke Fisher
Susie Woodward
Emily Walker
Jane Fowles
Melissa King
Lucy Murray
Melaia Lousi
William Halliday
Fraser Dymond
Craig Fellows
Conan Moynihan
Daniel Butler
Matt Strahan
2022: Kellogg Programme 45
Andy Wards
Matt Carroll
Sam Mander
Doug Maginness
Johana Olsen
Sonja Vreugdenhil
Isabelle Coates
Shaun Green
Sam Reynolds
Penny Timmer-Arends
Fiona Foley
Anna Benny
Sophie Davison
Angus Thomas
Caroline Batley
Henry McIntosh
Birch Jenkinson
2021: Kellogg Programme 44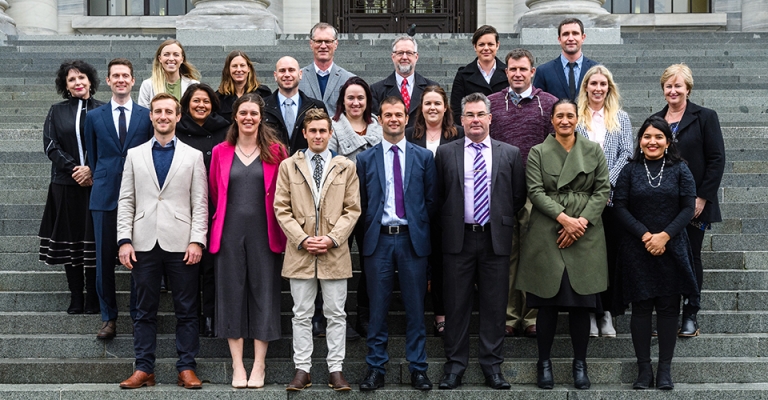 Bridget Newson-McNally
Mihi Harris
Catherine Miller
Stephan Ball
Greg Pringle
Rachel Weal
Luke Bridge
Andrew Drysdale
Breen Cowie
Jeremy Lawson
Mary Bartlett
Mike Green
Shar Temara
Munazza Saeed
Nick Woolsey
Maria Fathollahi
2021: Kellogg Programme 43
Anna Benny
Tryphena Carter 
Jack Cocks      
Jordyn Crouch  
Greg Hamill        
Rebecca Hyde   
Sarah Johnson
Kieran McHugh
Richard Merrilees           
Keri Moore
Andy Mourits
Dene Noonan
Richard O'Sullivan
Madison Pannett
Tracey Perkins
Adele Preston
Kathryn Reid     
Julian Reti Kaukau      
Jenna Smith       
Amelia Vinnell  
Andrea Watson
2020: Kellogg Programme 42
Brent Miller
Chelsea Smith
Nicole Morris
Donna Atkinson
Michael McHutchon
Nicole Mesman
Aaron Letcher
Rebecca Reith
Thomas Creswell
George Lilley
Bryan Milne
2020: Kellogg Programme 41
Oscar Beattie
Luke Beehre
Keegan Blignaut
Catherine Dickson
Clare Easton
Kate Downey-Melrose
Annie Fleming
Helen France
Julia Galwey
Alby Hanson
Juliette Maitland
Erin McIlmurray
Charlotte Montgomery
Lucy Moss
Graeme Peter
Matt Redmond
Richard Ridd
Sam Shergold
Sarah Watson
Anna Rathe
2019: Kellogg Programme 40
John Ahern
Scott Andrew
Shaun Back
Nicky Barton
Kylie Brewer
Jamie Callahan
Jonny Dingle
Anna Fenemor
Luke Futter
Matt Hodgson
Frankie Hore
Andrew Savage
Katie Vickers
Mike Murphy
Alice Rule
Heath Stafford
Isabelle Crawshaw
Adam Duker
Jason Griffin
Geoff King
Caroline Letham 
Lisa Portas
2019: Kellogg Programme 39
Amber Carpenter
Stacey Cosnett 
Paul Duynhoven 
David Eade 
Mark Eltom 
John Fitzgerald
Jason Halford
Richard Harley
Laura Keenan
Becs Lough
Blake Marshall
Mark Mayer
Sacha McDougall
Trish Rankin
Michelle Stevens
Rebecca Turley 
Steve Veix
Nigel Woodhead
2018: Kellogg Programme 38
Helen Andrews
Matthew Bell
Mike Baker
Nicky Brown
Harriet Cameron
Paul Ensor
Gordon Findlay
Sam Hogg
Bridget Huddleston
Glenda Hutchison
Robert Kidd
Matte Kirk
Mark Speight
Sarah Tait
Richard Thomson
Ryan West
Simon Witheford
Steve Wootton
Suzanne Young
Rachel McClung
Rebecca Miller
Siobhan O'Malley
Belinda Price
Greg Shepherd
2018: Kellogg Programme 37
Penny Clark-Hall
James Courtman
Emma Crutchley
Hayden Dunne
Nick Giera
Jason Grant
Tammy Hill
Robbie Hill
Mark Hooper
Jason Hoyle
Amanda Jordan
Lisa Kendall
Leyton King
Angela Leslie
Grant Payton
Ashleigh Phillips
Nicholas Pollock
Jack Raharuhi
Monica Schwass
Jessica Smith
Darryl Stretton
John Tatere


2017: Kellogg Programme 36
Jared Briggs
Neriah Broughton
Annabel Craw
Caleb Dennis
Tony Dowman
Kristina Dykes
Paul Edwards
Caroline Fellows
Pablo Gallegos
Justin Geary
Allister Holmes
Susan Kilsby
Sophie Malone
Gary Massicks
Matt Nelson
Olivia Ross
James Sinclair
Nigel Sowman
Brad Stevens
Kate Taylor
Craig Trotter
Ed von Randow
2017: Kellogg Programme 35

Emma Brand
Hannah Bruce
Sophia Clark
Belinda Cridge
Pania Flint
Wilma Foster
Joanna Greaves
Eva Harris
Cam Henderson
Lorna Humm
Oliver Knowles
Willem Kupa
Sam Mann
Megan McGregor
Grant McNaughton
George Millar
Anna Moore
Dave O'Sullivan
Rhys Roberts
Chris Sclater
George Strachan
Jaimee Whitehead
Michael Woodward
Brook Yates
Sarah Bell
Daniel Birnie
Kate Boyd
Don Chittock
Natasha Clarke-Nathan
Chris Coughlan
Dwayne Cowin
Sarah Crofoot
Amanda Giles
Katherine Gillespie
Cameron Hill
Grant Jackson
Shirley Kissick
Victoria Magazinovic
Michael McGehan
Alex Murray
Anna Nelson
Chanelle O'Sullivan
Anthony Pangborn
Kylie Phillips
Natalie Pickering
Johanna Scott
Tim van de Molen
Craig Ward
Phil Weir
Rachel Baker
Dylan Barrett
Natalie Bowie
St John Craner
Dale Cook
Matt Dyck
Jolene Germann
Angela Halliday
Casey Huffstutler
Andrew Jolly
Dave Martin
Paul Martin
Kristy McGregor
Nathan Nelson
Nicole Oliver
Wendy Oliver
Hayden Peter
Ed Pinckney
Nadine Porter
Alice Reilly
Penny Smart
Corrigan Sowman
Stu Taylor
Sam Williams
Reuben Carter
Farrell Chrystal
Hamish Clarke
Paul Crick
Jamie Cunninghame
Hamish Easton
Paul Jameson
Tom Keefe
Sam Lang
Wayne May
Julie McDade
Ange McFetridge
Chelsea Millar
Zach Mounsey
Solis Norton
Daniel Phillips
Sam Riley
Brad Saxton
Michael Skudder
Jayson Spittal
Aaron Wilson
Jeremy Anderson
Regan Barkla
Dennis Barclay
Mary Black
Amanda Bowie
Cam Brown
Damian Buckley
Clinton Gulliver
Sarah Heddell
Nathan Keoghan
David Kidd
Stu Kneebone
Lorry Leydon
Duncan Mackintosh
Jason Rolfe
Chrissy Stokes
Kirsty Stratton
Richard Sutton
Brad Tatere
Stephen Thomson
Simon Van Der Heyden
Ngarangi Walker
Ross Wallis
Christopher Anstis
Adrian Brocksopp
Alan Cook
Simon Cooney
Douglas Dibley
Mark Everest
Lynda Gaukrodger
Ian Handcock
Landon Jones
Brendon Lee
Lycinda Lett
April Mainland
Mark Patterson
Sue Pickering
Morgan Rogers
James Ryan
Penny Schulz
Jason Te Brake
Rosie Todhunter
Tim Woodward
Wade Bell
James Booker
Jonathan Brookes
Phil Butler
Hamish Fraser
William Grayling
Murray Jameson
Mary Johnson
Wayne Langford
Michael Lilley
Richard Luxton
Grant McKay
Nadia McLean
Matthew Pepper
Sara Russell
Virginia Serra
Postiglione
Michaela Soper
Mark Stevenson
George Tatham
Paul Thomas
Jane Allan
Claire Barlow
Cathy Brown
Sandi Clink
Andrew Dawson
Jessie Dorman
Clare Fraser
Bradley Harden
Susan Higgins
Robert Humphries
Angus Irvine
Brent Isbister
Roger Landers
Grant McDonald
Brendan McQuade
David Morgan
Sophie Stanley
Erica Van Reenen
Bruce Weir
Robyn Williamson
Sarah Barr
Lucy Bowker
Terence Brocx
Martin Coup
Sandra Faulkner
Will Foley
Greg Kirkwood
Mark Mayston
Murray Meads
Sharon Morrell
Paul Olsen
Kris Orange
John Payne
Chris Spargo
Gary Stokes
Sarah Wilson
Kate Wynn
Richard Young
Mark Adams
Steve Bailey
Ellen Bartlett
Toni Frost
Will Grigg
Sarah Gurnsey
David Jefferis
Ian Knowles
Lew Metcalfe
Ian Millner
Will Morrison
Bron Muir
David Paterson
Ed Percy
Steve Poole
Hemi Rolleston
Michael Salvesen
Anton van Schalkwyk
Peter Walters
Brett Wheeler
Wayne Berry
Tim Cookson
Hamish Craw
Matt Dolan
Fiona Gower
Cam Lewis
Boyd Macdonald
David MacLeod
Peter Mitchell
Sam Orsborn
Gloria Penrice
Rick Powdrell
Kate Scott
Diane Smith
Cindy Wellwood
Anne Williams
Grant Wills
Michelle Wilson
Bill Wright
Tim Hale
Evan Heywood
Sam Kane
Clare Kearney
Graham Law
Jenny Morrison
Lindy Nelson
Steph O'Sullivan
Bruce Rollinson
Brian Russell
Mike Simpson
Jack Tarrant
Sandra Taylor
James Towers
Herstall Ulrich
Gerard van Beek
Brett Walter
Kylie Welsh
Sue Yerex
Ian Brown
Neil Campbell
Garth Coleman
Stu Davey
Karen Duthie
James Gibson
Steve Goodman
Hayden Higgins
Richard Kyte
Ruth Lee
Craig Littin
Jason Miller
Amanda Phillips
James Reeves
Paula Southgate
Blair Stevens
John van Polanen
Katie Waaka
Raymond Williams
Andrew Wood
Paul Argyle
Dan Billing
Simon Couper
Hamish Davidson
Julian Gaffaney
Wendy Gibson
Nicholas Gorman
Mark Illston
Katrina Knowles
Chris Lewis
Greg Maughan
Jeanette Maxwell
Jennifer McDonald
Paul McGill
Duncan McLane
Glenys Perkins
Barry Pullin
John Scrimgeour
Dick Sharpin
Greig Sinclair
Akky van der Velde
Bruce Wills
Phillipa Wright
Nick Barrett
Linda Begg
Douglas Brown
John Bubb
Mark Crawford
Mike Crum
Chris Garland
Caroline Gilbert
Charlotte Glass
Greg Glover
Fi Hudson
Andrew Managh
Andrew Mason
Dianne McLeod
Mandi McLeod
Alan Morris
Peter Moynihan
Margaret Muller
Shirley Read
Robyn Skelton
Ian Storey
Peter Tod
Sarah Watson
Lester Wright
Katherine Archer
Andrew Bendall
Phillip Buckthought
Hayden Cartwright
Campbell Clayton Greene
Ru Collin
Emily Crofoot
Brad Devlin
David Gasquoine
Ross Goudie
Debbie Hewitt
Richard Hogg
Andrew Hunt
Bryan Limmer
Chris McIntosh
Gordon McKellar
Michelle Riley
Angela Sloane
Dean Vincent
Shaun Wilson
Bruce Wilton
Simon Wishnowsky
Gail Woods
Tim Aitken
Kris August
Birdie Bird
Peter Buckley
Chris Dunstan
Irene Fowler
Gary Jones
Tania Kerr
Anna Lorck
Nicola Luxton
Tim Mackintosh
Grant Massie
Peter Nation
Michael Paterson
Bryan Riesterer
Karen Semmens
Brian Speirs
Geoff Stevenson
David Turner
Nigel Udy
Linda Welch
Jono Wiltshire
John Wright
Brian Brakenridge
Conall Buchanan
George Collier
John Ford
Jane Fraser
Lynda Hanna
Murray Jagger
Anna Kempthorne
Rob Lyons
Rob Macnab
Peter McBride
David McLean
Basil Meyer
Mike Montgomery
Jennifer Natusch
Dean Nikora
Terry Olsen
Dermott O'Sullivan
Rodney Patterson
Fran Perriam
John Ridgen
Gillian Searle
Pete Turner
Trudy Wilson
Tim Banks
John Bicknell
Robin Eggleton
Matt Gardner
Frank Healey
David Hildreth
James Hunter
David Kelly
Richard Kempthorne
Murray King
Barbara Kuriger
Alan Law
Sally Lee
Juliet Maclean
Lyndon Matthews
Anne Munro
Terry Richards
Oliver Saxton
Dion Silich
Grant Taylor
John Vincent
Stephen Woodhead
Robin Barkla
Tony Bradley
Richard Burdon
Bid Clark
Graham Clarke
Robyn Clements
Craig Cooper
Grant Eynon
Juanita Fahey
David Jensen
Paul Jones
Anthony Lepper
Snow Loxton
Jane Mitchell
Michael O'Connor
Ruth Rainey
Amanda Ryan
Stanley Scorringe
Julie Simpson
Ben Smith
Marie Taylor
Warren Taylor
Lynette Wharfe
Director – Tony Zwart
James Allen
Richard Allison
David Anderson
Lyn Berry
Kim Bredenbeck
Joe Ferraby
Jo Grigg
Nathan Guy
Dee Innes
Kevin Jenkins
Jerry Jeromson
Jan-Maree Jex-Blake
Jan Lockett-Kay
Sue Lucas
Bruce McDougall
Charles Merfield
Justin O'Brien
Angela Payne
Mike Petersen
Richard Redmayne
Fiona Robertson
Ben Todhunter
Fenton Wilson
Philip Alexander
Phil Alison
Mark Aspin
John Bayly
Owen Becroft
Sue Bennett
Tim Buma
Rosie Dwyer
Gerry Eckhoff
Jeanette Emmerson
Andy Fox
Tracy Gundry
Craig Hammond
Ann Hogan
Russell McDivitt
Mary McTavish
Nicola Morris
Kevin Old
Mark Oldfield
Ross Polson
Allan Richardson
Sue Smart
Sarah Speight
Jeff Walker
Simon Beamish
Doug Brown
Meg Collins
Rupert Curd
James Falloon
Sue Fellows
Gordon Glentworth
David James
Royce Kokich
Tom Lambie
Caroline Lampp
Kate Lynch
Sally Macdonald
Lochie MacGillivray
Penny Mudford
Marlene Perry
Brian Power
David Rose
Rosalie Sampson
Andrew Taylor
Sue Trezise
Doug Voss
Annemarie Wedd
Terence Whelan
Bob Anderson
Karen Bailey
Rachel Barker
Tim Chamberlain
Ted Coats
Nikki Davies-Colley
Carol Fagan
Sandra Goudie
Nikki Hall
Paul Harris
EleLudemann
Peter Manson
Dugald McLean
Devon Miller
Claire Neal
Johno O'Connor
Sharyn Price
Lynlee Sanders
John Signal
Jan Sinton
Deane Taylor
Kerry Walker
Jean Wilson
Lawrence Yule
Director – Alistair McArthur
Malcolm Bailey
Alec Buchanan
Margot Buick
Alison Cater
Murray Donald
Ruth Douglas
Mark Farnsworth
Andrea Marsh
John Monaghan
Hendrik Pieters
Andy Pottinger
Lynden Prebble
Ian Smith
Jan Sooalo
Jean Soper
Laurie Stanton
Graham Taylor
Roger Taylor
Gilbert van Reenan
Kathryn Ward
Mark Warren
John Williamson
Bruce Blomfield
Peter Bosworth
Tim Brittain
Brian Carter
Richard Christie
John Cusdin
Louise Deans
Gavin Forrest
Sandra Goodwin
Bryan Guy
Warren Hardwick
Nicola Henderson
Richard Jordan
Colin Kay
Kevin Marsh
Jan Martin
Linda McIntyre
Quentin Poole
Bruce Robertson
Peter Smith
Susan Stephen
Catherine Tiffen
Bruce Trebilco
Di Wilkinson
Alan Wise
Judith Andrews
Roger Barton
Alastair Frizzell
Art Gage-Brown
Shona Glentworth
Judith Hoban
Sinclair Hughes
Tony Jopp
Malcolm Macpherson
Paul McCarthy
Rab McDowell
Stuart McHardy
Christine McKenzie
John Mills
Dougal Morrison
Gwen Neave
Graeme Neylon
Veronica Ruddenklau
Noel Russek
David Shaw
Jenny Turner
Murray Turner
Philip White
Kevin Winters
Margaret Bassett
Simon Cameron
Christine Donelley
Bernard Duncan
Tim Gilbertson
Reese Hart
Nicola Holmes
David Hopkins
Ann Jones
Alan Livingston
Mary-Jean McLauchlan
John McLean
Andra Neeley
Christine Negus
Ross Paterson
Val Reddecliffe
Wayman Roughan
Pat Seymour
Shirley Smith
David Stevens
Ian Tennant-Brown
Juliet Thomas
John Turner
Mike Wagstaff
Grahame Webber
Noel Wilkinson
Bruce Woods
Susan Atkinson
Pat Brophy
Marian Cleaver
John Cook
Margaret Cutler
Liz Evans
Oliver Grigg
Dinah Hedger
Anne Hilson
Barbara Judge
Graham McBride
Scottie McLeod
Geoff McPhail
Tom Morton
Judy Nichol
Robin Reid
Carl Robinson
John Rowley
Irene Scurr
Graeme Shirley
Liz Soper
Ian Totty
Andrew Von Dadelszen
Pauline Wilson
Vivienne Allan
Rosie Armstrong
Ian Barron
Norman Bruning
Heather Carter
John Chapman
David Cosgriff
Bryan Darragh
Bill Davies
Bob Engelbrecht
Graham Faulkner
Brian Fielder
Alan Grant
Peter James
Sue Lane
Malcolm McCallum
Jeanette McIntyre
Robin Meyer
Owen Nelson
Kevin O'Connor
Brian Sowman
Keith Swinbank
Godfrey Thomas
Jenni Vernon
Marie Davidson
Clive Denton
Howard Dixon
Alex Dunlop
Ashley Edge
Colin Holmes
Terry Jones
Ebel Kremer
Maryann Macpherson
Cliff Mail
Tom Mandeno
Geoff Mathis
Jock McLean
Andrew Orbell
Piers Phillips
Graeme Riesterer
Bill Shepherd
Jenny Shipley
Rick Vallance
Rob Wallace
Andrew Welch
Dave Willocks
Marlene Woods
Gordon Bishop
John Campbell
Pam Cowie
Errol Croy
Murray Halstead
John Henderson
Norman Hewett
Keith Holmes
Jim Howard
Jennie Langley
Bill Lee
Doug Leeder
Wendy McAtamney
Geoff McBride
Ross Mitchell
Shirley Mossman
Des Pringle
Sam Robinson
Roger Tasker
Tim Tatham
Mary Walker
Bevan Whitty
John Woodward
Pehimana Brown
Noelene Buckland
Rod Calver
Steve Connell
Norman Craig
Kerry Dunlop
John Edmonds
Tom Elder
Alan Greig
Robyn Grigg
Dave Hurst
Rodney Luxton
Richard Macdonald
Denis Marshall
Isla McFadden
Tony Mulligan
Jeff Orchiston
John Palmer
Jock Patterson
Cedric Percy
Christine Robinson
Eric Roy
Don Simpson
John Webb


Ian Baird
Robert Campbell
Robin Campbell
Brenda Carr
Jane Coughlan
Katrina Gardiner
Colin Hammond
Sam Inder
Lyn Kingsbury
Robert Lockwood
Don McFarlane
Iain McGillivray
Margaret Millard
Dennis Munro
John Murphy
John Paynter
Brian Peacock
Chris Reeve
Eion Rutherford
Owen Buckingham
Dick Davison
Colin Dick
Vicky Duncan
Ed Glass
Danna Glendining
Owen Jennings
Peter Jensen
Alan Johnson
John Luxton
Alistair Malcolm
John Metherell
Jon Newson
Stan Phillips
Edwin Pitts
Ponty Von Dadelszen
David Walter
Ron Webby
Jock Webster
Kevin Were
Ness Wright
Our programmes work in partnership with some of New Zealand's leading agribusiness organisations – click here for more.​