Applications for 2021 Nuffield Farming Scholarships close
Sunday, 23 August 2020
Tracy Brown
Tracy, originally from Northland is married to Wynn. She lives near Matamata on their 700 cow, 310ha farm 'Tiroroa' which won the Waikato Ballance Farm Environment 'Supreme Award' and the Fonterra Farm Source 'Responsible Dairying' Award. Tracy also won the Sustainable Business Network 'Sustainability Superstar' Award in 2018. Tracy has been leading environmental change for dairy through her roles as Chair of the DairyNZ Dairy Environment Leaders Programme, Chair of the Ballance Farm Environment Awards Alumni, and as farmer representative on the Dairy Environment Leadership Group (DELG) which oversees the Water Accord. She has also recently been appointed by Cabinet to the Essential Freshwater Independent Advisory Panel. Tracy has been involved with setting the future direction for dairy on the 'Dairy Tomorrow' Working Group. She worked as an Agricultural Economist in the sheep and beef industry prior to entering dairying. She is both a 'Kellogg Rural Leadership Programme ' and 'Escalator' Alumni and her strengths are in strategy, collaboration and connectedness. Tracy has had a number of other community, regional and national leadership and governance roles including maori/iwi governance and Board of Trustees roles in between bringing up four children.
Shannon Harnett
With experience in dairy, sheep & beef and horticulture, Shannon held senior management and accounting roles before becoming director at Rural Accountants. She has been involved in several horticultural start-up businesses dealing with PVR varieties. Shannon is a Chartered Accountant and director and co-owner of Rural Accountants, a progressive accounting firm in Whakatane. She is a Chartered Member of the Institute of Directors and holds directorships in several agricultural & horticultural businesses. Growing up on a sheep & beef farm in Hawkes Bay, Shannon's farming background guided her accounting career by starting straight out of school at a farm accountancy practice. She graduated from Massey University with a BBS, majoring in Accounting and Management, and a Post Graduate Diploma in Agri Commerce. An advocate of the New Zealand primary industry, Shannon has gained valuable industry knowledge and believes New Zealand has an exciting opportunity to grow high value, consumer driven produce. Shannon Harnett is passionate about New Zealand's primary sector and plans to research the value Plant Variety Rights (PVRs) could contribute to this sector.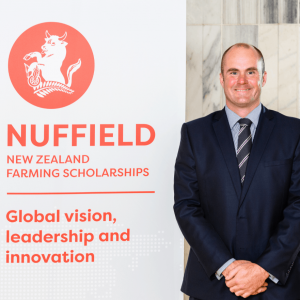 Ben McLauchlan
Living in Rapaura, Marlborough, Ben owns and runs a 102 H vineyard growing Sauvignon Blanc, Pinot Noir, Pinot Gris and Chardonnay grapes, in partnership with premium wine companies. Alongside the vineyard there is also a beef fattening unit, a legacy of the areas farming origins. Ben's Grandfather moved to Rapaura in 1935 and purchased 'Balvonie' which forms part of the area Ben farms today – with changes in land use – from Sheep and Beef to Grapes. This legacy is important to Ben and he is passionate about ensuring the property is passed to future generations in good, preferably better condition. Ben grew up on a Sheep and Beef farm in Marlborough and witnessed first-hand the wine industry expanding across Marlborough, which in turn led to an interest in viticulture and wine. Ben studied Commerce, viticulture and oneology at university followed by a career in Sales and Marketing in the alcohol industry in New Zealand and the UK. Ben moved back to Marlborough in 2014 with his family to take up a role in banking with BNZ as a Commercial partner and at the same time becoming involved with the management of the family business started by his grandfather. He subsequently moved to the Vineyard business full time and now owns and runs the operation. Ben is Deputy Chair of Marlborough Grape Producers Co-operative and Chair of Rapaura School Board of Trustees. Ben McLauchlan is focused on guardianship of his family vineyard for future generations by enhancing sustainability through the use of technology found in global primary industries.
Edward Pinckney
Edward has been involved in his family's business since 2006, managing Morley Creek near Ohai. Edward grew this business from 6000 to 15000 stock units through leasing, family succession and further acquisitions before selling Morley Creek and purchasing Jericho Station and Waipango Dairy Ltd. Edward is a director and owner of Jericho Station/Edward Pinckney Ltd a 12500 SU sheep beef and grazing property where he lives with wife Jaimee. The acquisition of Jericho station was a public and arduous purchase process that required a reasonable amount of campaigning publicly through politicians and the overseas investment office. He is also director and owner of Waipango Dairy Ltd a 700 cow dairy farm situated near Riverton in Southland. Edward has held positions locally at Federated Farmers and is a member of local catchment environmental groups and a member of a progressive farm discussion group. Edward graduated from Telford, Walford College (UK) and Lincoln University. He furthered his education in business and leadership through completing the Kellogg Rural Leadership Programme and Rabobank Executive Development Programme. Edward has a passion to see people enter the agricultural industry and develop their skills and plans to further research opportunities in this topic as part of his scholarship.
Phil Weir
Living on the slopes of Mt Pirongia, 30 minutes from Hamilton, Phil is active in farming his co-owned 240ha drystock property with his wife Megan and three children Henry (5), Freya (3) and Margot (1). Phil also works as an Agribusiness consultant with AgFirst (Waikato) where he focuses on helping a range of clients consider land use diversification from an economic, systems and succession perspective. Phil completed the Kellogg Rural Leadership Programme in 2016 and has recently become a member of the Beef and Lamb Mid Northern North Island Farmer Council where he is upbeat about the opportunities for this sector. Prior to farming, Phil travelled extensively and has a diverse background. He has worked in Environmental Science across Australasia, held senior roles with AgResearch in commercialisation and business development and completed a Master of Marine Management at Dalhousie University in Nova Scotia, Canada. Phil believes a positive outlook and high-quality collaboration is essential to the primary sector positively confronting the myriad of complex challenges faced. Phil wants to explore the NZ primary sector landscape to determine if there are fundamental barriers restricting collaboration, and to consider how NZ primary producers can best work together.
Ben Hancock
Ben was raised on his family's Wairarapa hill country sheep and beef cattle farm. He is now based in Wellington working for Beef + Lamb New Zealand as a senior analyst, still near the farm and often back home to work. After working in research and conservation roles in New Zealand, USA and Panama, Ben completed his PhD investigating eco-system services. Ben worked for the Ministry for Primary Industries in biosecurity policy before joining Beef + Lamb New Zealand. With New Zealand's agriculture export-focused, improving the diversity of markets can help to minimise volatility and maximise highest value outcomes. There are markets that have traditionally used sheep products that maybe under-utilised by New Zealand. Ben is interested in researching this during his scholarship.
Cam Henderson
Cam owns and operates a 750 cow dairy farm near Oxford, North Canterbury. With degrees in engineering and finance, he has worked in a range of dairy industry roles including time with Fonterra and DairyNZ. Alongside overseeing farming operations, Cameron currently commits much of his time to the Waimakariri Zone Committee in setting local environmental limits and to representing farmers as North Canterbury Federated Farmers Provincial President. "All farmers will benefit from adopting the latest innovative practices on the farm and encouraging others to do the same. The faster we can encourage farming to evolve, the less regulatory and public pressure we will have to endure". Finding the factors that increase the speed of innovation adoption among farmers is a key interest for Cameron. A trainee in music, golf, snowboarding, flying and Te Reo, Cameron enjoys learning and giving anything a go.
Corrigan Sowman
Corrigan lives in the small rural community of Golden Bay with his wife Ruth Guthrie and their two sons Wylie (7) and Tim (5). He is a partner and manager of the family's dairy farming business alongside his parents and brother Sam. Corrigan is a graduate of Massey University with a Bachelor of Applied Science, was a former Consulting Officer with DairyNZ and Farm Consultant with FarmRight in Canterbury. Alongside managing their 400ha dairy farming business, Corrigan has several off-farm roles. He is Chair and Independent Director of the South Island Dairy Development Centre (SIDDC) which operates the Lincoln University Dairy Farm. He is also Deputy Chair of the DairyNZ Dairy Environmental Leaders Forum, an initiative to foster and strengthen environmental stewardship and community leadership amongst New Zealand Dairy Farmers. Farming practices that strengthen the integrity of the food produced is something Corrigan wants to better understand. "How can we give our farmers better market signals about the value they are creating in their production systems, especially inside a large cooperative?"
Hamish Marr
Hamish is a 41-year-old, 5th generation, an intensive arable farmer from Methven in the South Island. Hamish is married to Melanie and they have three daughters aged 8,5 and 3. Prior to a farming career, Hamish graduated Lincoln University with B COM Ag in 2000 and then spent 4 years with Ravensdown Fertiliser as a field officer based in Ashburton. With his brother and parents, they farm 500ha of arable crops specialising in small seeds. Outside of farming and family, Hamish is involved in several industry organisations. He is also active within Federated farmers and represents the Herbage seed growers section in Mid Canterbury and within that on the management committee for the Seed Quality Merchants Association, a board that oversees the seed certification scheme on behalf of MPI. Hamish is also involved with the Foundation for Arable Research on the Mid Canterbury Arable Research Group and the Research and Development Advisory Committee. Outside of work he has become a council member on the Ashburton Scottish society representing the Ashburton Pipe Band. Farmers over the years have become dependent on a vast array of synthetic agrichemicals as a means of controlling weeds, pests and diseases and as a result, increasing yields across the board but this is being challenged and Hamish hopes to study the regulation that is being introduced in Europe and the implications for NZ.
Hamish Murray
Hamish, wife Jessica, three children, Lucy (5) Margot (3) and Jonty (1) farm Bluff Station a 13000 ha High Country property in Marlborough. South Island NZ. He completed an agricultural degree at Lincoln University NZ, economics at Cambridge University (UK), and worked with the New Zealand Merino Company, before returning home to farm in 2008. Hamish has been managing the farming operation including sheep, cattle and a recent diversification into beekeeping and honey production. He is also on the governance board for the Post Quake farming group helping with recovery from the November 16 Kaikoura Earthquake and a production science group for the New Zealand Merino Company. Hamish has a real focus on people and relationships and is planning to investigate how the differences in environment, education and culture have shaped the values of our consumers and employees. Recognizing and understanding how these values have been formed and vary between culture and generations is key the success of our marketing efforts being a small export-led country. He aims to search out those organisations in our key export markets for wool, meat and honey which are engaging consumers and understand what is making them successful.
Andy Elliot
Twitter: @AndydElliot
Study Topic: Redefining Our NZ Food Export Proposition: A Focus on Nutrition & Health.
Simon Cook
Twitter: @TePukeSimon
Study Topic: On Farm Biosecurity. The Importance of the Farm Gate.
Kate Scott
Twitter: @katescoNZ
Study Topic: Enabling Better Environmental Outcomes in Agriculture.
Turi Mcfarlane
Twitter: @turi_mcfarlane
Study Topic: Farm Planning for a Sustainable Future.
Solis Norton
Twitter: @solisnorton1
Study Topic: Energy Use in New Zealand's Primary Food Production Chains and a Transition to Lower Emissions. 
Jason Rolfe
Twitter: @jasonrolfe2
Study Topic: Developing an Online Sales Strategy for New Zealand Food
Matt Hocken
Twitter: @MatHocken
Study Topic: The Innovative Farmer Generating innovation through a farmer and grower-led system of innovation.
Rebecca Hyde
Twitter: @bechyde83
Study Topic: Effective Industry Collaboration for Environmental Gains
Nadine Porter
Twitter: @farmjourno
Study Topic: Citizen Centric positioning of the New Zealand Agri Food Sector
David Kidd
Twitter: @davidkidd2017
Study Topic: Growing value for New Zealand's Red Meat Industry
Ryan O'Sullivan
Twitter: @nnz17ryan
Study Topic: The continued competitiveness of Grassed based farming
Jessica Bensemann
Twitter: @JessNuffield16
Study Topic: Internationalisation of New Zealand Agribusiness
Richard Fowler
Twitter: @fowlerr81
Study Topic: Cell cultured food and the potential impact on animal farming
Sam Lang
Twitter: @hillcountrykiwi
Study Topic: Regenerative Agriculture
Bede O'Connor
Twitter: @BedeFarm
Study Topic: How will the internal development of the China Dairy Industry effect New Zealand?
Tom Skerman
Twitter: @tskerman
Study Topic: Governance
Dan Steele
Twitter: @danblueduck
Study Topic: Adding Value Through Environmental Management
Ben Allomes
Twitter: @ballomes
Study Topic: Leveraging off Human Capability
Satwant Singh
Twitter: @satwantksingh
Study Topic: Managing Farm Income Volatility
Sharon Morrell
Twitter: @DairyingBOP
Study Topic: Communities Coping With Limits
Paul Olsen
Twitter: @olsenagri
Study Topic: Global Potato Production – Helping Feed the World
John Murphy
Follow John johnmurphy14.wordpress.com
Twitter: @NZGarlic
Study Topic: How does an agricultural business maintain its essence and become better at fulfilling its purpose?
Lucy Griffiths (nee Cruikshank)
Follow Lucy innov8aotearoa.blogspot.co.nz
Twitter: @Innov8Aotearoa
Study Topic: Business Plan for the NZ Sheep Dairy Industry
Mel Poulton
Follow Mel poultononthewing.wordpress.com
Twitter: @MelWNI
Study Topic: Capturing Value
Daniel Shand
Follow Daniel danshand.wordpress.com
Twitter: @nzprimarily
Study Topic: The use of mobile technology in the red meat sector
Tafadzwa Manjala
Follow Tafi http://nuffield2013.blogspot.com.au/
Twitter: @TafadzwaManjala
Study Topic: Good to Great Extension – Influencing on farm change at pace and scale
Sophie Stanley
Follow Sophie http://sophiestanley.wordpress.com/
Twitter: @sophiethekiwi
Study Topic: Harnessing Social Media in Agriculture
Lisa Harper
Follow Lisa http://harpernuffield13.blogspot.com.au/
Study Topic: Supporting entrepreneurship in New Zealand agriculture
Natasha King
Follow Natasha http://gonenuffing.wordpress.com/
Twitter: @NatashaKingNZ
Study Topic: Can Generating Gas and Electricity be the Solution to New Zealand Dairy Effluent Management?
Stephen Wilkins
Follow Steve http://stevewilkinsnuffield.blogspot.co.nz/
Twitter: @SteveWilkins10
Study Topic: Synergies between arable and dairy – With a focus on effluent and nutrients
Sandra Faulkner
Study Topic: Maximising Farmer Value within the Natural Fibre Supply Chain 
Richard Fitzgerald
Study Topic: Capability Development of Farmers through Farmer Networks
Michael Tayler
Study Topic: Future Technologies in Arable Farming
Nicola Waugh
Study Topic: Farmer Adaptation to Change with the Threat of Regulation
David Campbell
Study Topic: Understanding Our Asian Customers
Paul McGill
Study Topic: Catchment Management Strategies
Desiree Reid
Study Topic: How Do Dairy Co-Operatives Grow For Famers' Benefit?
Ian Knowles
Study Topic: Agriculture Education and Training in New Zealand
Alex Jack
Study Topic: Animal Welfare, Environmental and Ethical Issues Affecting The Value Of New Zealand's Pastoral Products
Mandi McLeod
Study Topic: Family Business Continuance: A Global Perspective
Gregg Pardoe
Study Topic: Indigenous Peoples and How They Have Adapted To Modern Farming Practices
James Parsons
Study Topic: Supply Chain Relationships and Value Chain Design
Ali Undorf-Lay
Study Topic: Bridging the Divide Craige Mackenzie
Study Topic: Understanding the Carbon Footprint in Farming Systems
Les Keeper
Study Topic: Adding Value to New Zealand Milk
Jane Mitchell
Study Topic: Meat Supply Chains and Climate Change
Steven Sterne
Study Topic: The Value Chain in Pork Products in New Zealand
Ben Todhunter
Study Topic: Integration of Conservation and Farm Production
Vaughan Templeton
Study Topic: Sustainability of Agricultural Systems regarding Nutrient Losses
John Wright
Study Topic: Primary Industry Investment in Longer Term Research and Innovation
Andrew Watters
Study Topic: How Companies Innovate and How New Zealand Companies Can Innovate Better
Andrew Fox
Study Topic: Use of Antibiotics in Food Production/Lamb Marketing Opportunities in North America
Murray King
Study Topic: Staffing Solutions for Primary Industries
Jim van der Poel
Study Topic: Capital Structures of Large Corporations
Adrian Gault
Study Topic: To GE or Not to GE? New Zealand's Dilemma
Juliet Maclean
Study Topic: The future impact of biotechnology on stock, forage and food
John S. Wilson
Study Topic: Measuring co-op and plc performance
Hugh Ritchie
Study Topic: Sustainable Farming Systems
New Zealand Nuffield Farming Scholars 1980-1999
Richardson, Alan.G. (Sonia) Tapanui
Study Topic: Sustainable and organic livestock farming in the EU, quality assurance schemes for livestock farms, impact of animal welfare groups
Bull, Miss C.A. (Catherine)
Study Topic: The issues facing the dairy industry in a changing world market.
James, MrsMarise L. (Bryn) New Plymouth
Study Topic: Ownership structures of the dairy industry, animal welfare, environmental and food safety issues – UK, Singapore, Malaysia, Europe, USA.
Old, Kevin M. Morrinsville, now Canterbury Study Topic: Dairy industry structures – Europe, USA, Argentina.
Douglas, Murray B. (Marcelle) Whangarei
Study Topic: Resource management issues, dairy processing and marketing in the UK and Europe.
Harris, Paul M. Tutira
Study Topic: Marketing of primary products – Asia, Europe, UK, Eire, Eastern bloc.
Raine, Julian R. (Cathy) Nelson
Study Topic: Integrated fruit production in response to European developments in this field – Chile, USA, UK, Europe.
Brown, Douglas A. (Jeannie) Oamaru
Study Topic: Sheep industry in EU – UK, Ireland, Europe, China.
Taggart, Murray J. (Gina) Oxford
Study Topic: Meat marketing, branded versus generic promotion – Europe
Wright, A Stuart. (Angela) Sheffield
Study Topic: Seed potato production, disease management in arable crops – UK, Canada, Holland, France, Zimbabwe.
Barton, Roger T. (Barbie) Greytown
Study Topic: TB, animal welfare, chemical residues in wool – UK, Ireland, France, Belgium, Germany

Reilly, A P. (Tony) (Kathy) Takaka
Study Topic: Social effects of GATT. Environmental impacts of Ag. Dairy breeding. Rural education
Polson, Alastair R. (Bo) Wanganui
Study Topic: On farm quality assurance, meat marketing, trade and the environment – UK, France, Dk
Schrider, Noel A. ( Maria) Patea
Study Topic: Animal production, welfare and environmental effects associated with high input dairying – UK, Ireland, Holland, France.
Vernon, Jenni A. (Gordon) Ngaruawahia
Study Topic: Milk Marketing Board Changes – Netherlands, France, UK.
Jopp, A J. (Tony) (Jillian) Alexandra
Study Topic: Agricultural policy in the UK and Europe
Mackenzie, R Ian. (Diana) Ashburton
Study Topic: Farm management – UK, Denmark, Holland, France, USA, Canada
Howey, A C. (Tony) (Afsaneh) Pleasant Point
Munro, Dennis L. (Liz Greenslade) Wairoa
Study Topic: The international markets for the NZ sheep and beef sector – M. East, UK, Europe, USA
Daniell, Derek M. (Chris) Masterton
Study Topic: Chilled lamb, joint ventures, genetic engineering, wool promotion, effects of intensive farming on the environment – UK, Europe, Russia, USA
McNab, Bruce. (Fay) Oamaru
Study Topic: Marketing NZ sheep meat in Europe
Luscombe, Philip C. (Ainsley) Manaia
Study Topic: EC policy trade issues, environmental pollution. UK, Ireland, Europe
Palmer, John L. (Sally) Nelson
Study Topic: International fruit marketing – UK, Europe, USA.
Shepherd, David J. (Elizabeth) Mosgiel
Study Topic: Land ownership, farm occupancy systems, rural financing
Grant, Alan G. (Alison) Ashburton
Study Topic: Market access arrangements for NZ meat, marketing effectiveness of NZ Meat Board – UK, N.Europe, USA, Canada
Mandeno, Tom G. (Anna) Tuakau
Study Topic: Sheep and wool industries, reorganisation of local govt in Scotland – UK
Lee, W W. (Bill) (Susie) Gebbies Valley
Study Topic: Wool promotion and marketing – UK, Europe
Mathis, Geoff C. (Marion) Tirau
Study Topic: UK dairy industry – all EEC countries
Davison, Richard W. (Elizabeth) Culverden
Study Topic: EC sheepmeat regime, history of agricultural protection – UK, France, Belgium
Hamilton, Bruce N. (Joan) Westport
Study Topic: Industrial relations, environmental conflict resolution – UK, France, Israel, Holland, Denmark, Canada
Herlihy, Gavin J. (Gerarda) Ranfurly
Study Topic: Water adminisration, meat marketing. – UK, France, Ireland
Kirke, Derek M. (Clare) Wanaka
Study Topic: The production, manufacture and marketing of man made and woollenfibre – UK, France, Germany, Greece, USA
Cook, Peter L. (Jan) Stratford
Study Topic: Production, processing, marketing/devt wool; beef from the dairy industry – USA, Canada, UK, W.Europe
Hurst, Dave P. (Nicky) Te Puke
Study Topic: Multiproduct farm and business management with emphasis on dairying. – UK, Europe, USA
Marshall, Hon Denis W A., (Annette) Queenstown
Study Topic: Marketing primary products. Role of CAP. – N America, UK, Europe
Nelson, R Martin. Te Aroha
Study Topic: Beef potential of NZ dairy herd – USA, UK, France
Jackson, Peter A H. (Pru) Ngaruawahia
Study Topic: Sheep production. Marketing of wool and meat products, – UK, Europe, USA Pye, Alan J. Christchurch
McFarlane, Don G. (Di) Temuka-now Geraldine
Study Topic: Crop management, irrigation, co-op marketing, resource planning UK, Israel, USA
Shirley, Graeme A. (Anne) Tauranga
Study Topic: Rural servicing and social issues wich affect rural communities- Meat Industry – UK, France, Denmark, Holland, USA
Dunlop, Kerry J. (Kit) Winton
Study Topic: Meat marketing, co-operatives, management of prolific sheep – UK, France, Denmark
Jennings, Owen R. (Doreen) Auckland
Study Topic: Dairying, wetlands, environment. – UK, Ireland, Europe
New Zealand Nuffield Farming Scholars 1951-1978
Hopkins, John D. (Elaine) Manawatu
Study Topic: Dairy farming – UK, America Percy, J Cedric. (Ronny) Masterton
Study Topic: UK, Europe, USA
Robertson, Graham B. Ashburton
Study Topic: Arable farming – UK, Europe
Glass, Eddie., MBE. (Valerie) Ashburton
Study Topic: Farm management – UK, USA
Murfitt, Garry P. JP. (Jane) Pahiatua
Study Topic: Meat and wool production and marketing from farm gate to consumer. – Asia, UK and Europe
Hall, Grahame W. (Sandy) Rotorua
Study Topic: Dairying, co-operatives, local government – UK, Europe 1975
Neilson, Geoffrey W. (Ailsa) Dunedin
Study Topic: Requirement and methods of retailing meat and wool. Farm training institutes – UK
Bull, Douglas M L. (Tess) Whakatane
Study Topic: Large farm management, farmer training, agricultural co-operatives – UK, Rep Ireland
Kingsbury, Lyn R. (Gillian) Rakaia
Study Topic: Irrigation, sheep breeds, devt of agricultural training – Israel, UK
Horrell, P John. (Judy) Northland
Study Topic: Intensifying land usage, forestry
Wright, Alex G. (Joan) Rakaia
Study Topic: Arable herbage seed production, plant variety rights – U
Mitchell, Robin F. (dec'd) (Judith ) Palmerston North
Study Topic: Dairy and beef – UK
Jensen, Peter P. (Anne) Tauranga
Study Topic: Dairying – UK, Ireland, Denmark
Plummer, Timothy J. (Mary) Waipawa
Study Topic: Applied animal genetics – UK Pinney, Bernard. (dec'd) ( Jenny) Canterbury
Gower, Derek H. Hamilton
Study Topic: Large dairy farm mangt. – France, UK, Canada
Geddes, Kevin J D. (Lorraine) Christchurch
Study Topic: Agri politics, wool – UK Burnside,
Robbie A. (Elspeth) Balclutha
Study Topic: Agricultural training, beef overwintering systems, meat processing and marketing – U
Waite, Barry T (Margaret) Te Puke
UK Scholar 1971, emigrated 1977
Study Topic: Dairying and grassland – Australia, NZ
Elworthy, Sir Peter H. KB (dec'd) (Fiona)
Study Topic: Co-operatives, agricultural politics UK
Macdonald, Ken J., JP., Tauranga
Study Topic: Dairy farming – UK.
Watson, D G. (dec'd) Canterbury
Study Topic: Management and training – UK
Scott, Jonathan M. Woodend McFall, Morris S. (Hilary) Te Awamutu
Study Topic: Intensive dairying – UK, Ireland, Germany, Canada, USA
McLaren, Ross E. (Jan) Hamilton
Study Topic: Large dairy herds and beef from the dairy herd – UK, USA
Naylor, Max R. (dec'd) Queenstown
Study Topic: Business management, sheep breeding – UK
Acland, John O. (Rosemary) Geraldine
Wright, Ness Q. (dec'd) Sheffield
Harvey, Don J. (Margaret) Taranaki
Study Topic: Dairy beef
Tripe, J Nick. Wanganui
Study Topic: EEC entry by UK. Prolific sheep, intensive beef
Bamford, Michael T. (dec'd) Masterton
Kneebone, John T., CMG. (John) Tirau
Graham, Frank C. (Beverley) Turangi
Study Topic: Sheep and cropping – UK
Morrison, Pat G. Darfield
Study Topic: Arable farming
Cocks, J Ron. (dec'd) (Jessie) Ashburton
Dalzell Reg. (Doris) Winton
Study Topic: Cereal production, sheep production, farm management
Clarke, John. (Margaret) South Otago
Study Topic: Sheep farming, cropping – UK
O'Connor, John D. (Del) Westport
Study Topic: Dairying, small farms, devt of marginal land – UK
Daniell, John L. (dec'd) (Christine) Masterton
Pullar, Gordon J. (Margaret) Gore
Study Topic: Sheep, meat, wool production, marketing, supplementary feed crops, grain bulk harvesting and handling – UK
Hunt W F. (Bill) (dec'd) ( Ruth) Cromwell
Study Topic: Small seed production, feed lots for cattle – UK, USA
McLennan, Brian A. (dec'd) Masterton
James, H Alan. (dec'd) Masterton
McKenzie, Don K (dec'd) Ashburton
Baker, David G. (dec'd) (Allison) Cave
Hulston, Don J. (dec'd) Waimate
Badger G E. (dec'd) Okaihau, Kaitoke
S Don Sinclair. (dec'd) Nelson
Curd, P C. (dec'd) Ashburton
Study Topic: Rearing and Finishing Beef Cattle in the UK
McLean, R J. (dec'd) Invercargill
De Lautour, Philip A. (dec'd) (Philip and Natalie) Wairoa
Study Topic: Sheep and cattle breeds in the UK, with assessment of their value to NZ Mackenzie, Clutha N. (dec'd) Scargill
Corrigan, John R. Matamata, now Tauranga
Jarman, F W (Ron) Darfield
Gordon, Rt.Hon. J B. (dec'd) Heriot
Holderness, T D John. (dec'd) Gebbies Valley
Slater, Gilbert S. (dec'd ) Geraldine
Linklater, H M. (Jack) (dec'd) Palmerston North
Nutt, Graham A. (dec'd) Christchurh
Plummer, Peter S. (dec'd) Waipawa
Murphy Brian E (dec'd) Kaponga, Taranaki
Hilgendorf, Sir Charles. (dec'd)