Applications for the next Lincoln-based course close 14 November 2021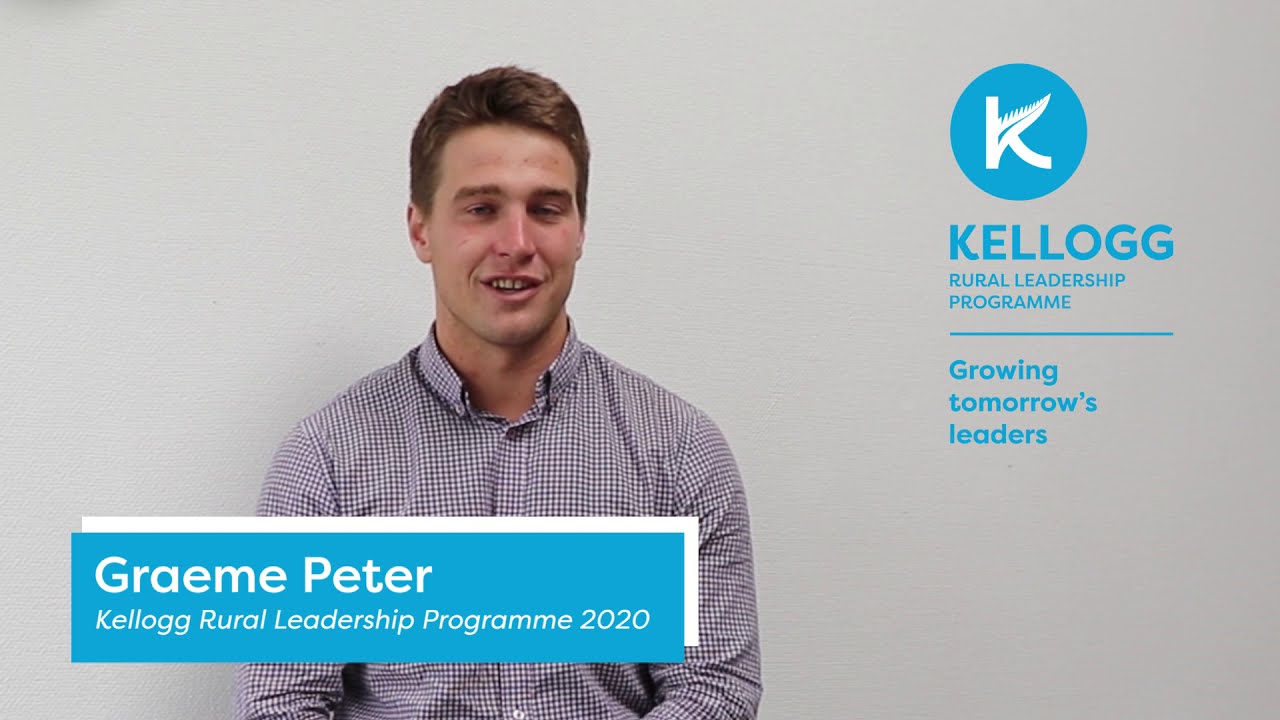 "Through the Kellogg programme I've developed more confidence in dealing with my peers and contractrors and how to back myself. I learned what is happening within the wider primary sector and how the Government cogs work in Wellington. Networking with leaders from within the primary industries has been invaluable to me, along with the lifetime friends I've made with participants on the programme."
"If you're thinking about doing a Kellogg, then JUMP IN! Don't look for inspiration, you be the inspiration in your field – this is what I learned from doing a Kellogg! The networking opportunities, and access to global agricultural and wider industry leaders was a key part of the programme. My cohort energized me and challenged my viewpoints. You won't leave a Kellogg without having a few lifelong mates in tow."
"I was inspired to do the Kellogg Programme because it provided me with an opportunity where I could re-engage in ongoing learning without having to go back to University (having been out of study for some time). A big takeaway from the Kellogg programme was having access to industry leaders and how ready they were to speak to me and build relationships. The self-confidence I developed through the Programme, along with the networks I've gained have been instrumental in helping me to take action with my report recommendations and get out there and do some industry good in the primary sector."
"For me the Kellogg Rural Leadership course has been an amazing experience. I have met some incredible people within our cohort many who will become lifelong friends. The speakers were fantastic and gave us honest insights into their lives and the experiences that have shaped their success. The project was a challenge but so rewarding for me and many of the participants.  I hope that it will be a game changer for the industry in the future. Lastly many thanks to Scott, Lisa, Anne and Patrick who are an awesome team and have made this year a truly memorable one."
"The Kellogg Leadership Course has many varied, engaging, relevant topics, that develop significant and effective skills, to assist in a variety of leadership roles. Leadership is known at times for its 'lonely path' so this course enables a network for skilled, enthusiastic, passionate, intelligent and experienced people to come together to learn and build each other, in doing so forging friendships. This course empowers you to navigate the challenges leadership inevitably presents, with an outstanding network of people, meaning that the benefits of this course will not end at the final phase."
"Wow – what an amazing experience the Kellogg Rural Leadership Programme has been.  I feel incredibly fortunate to have been a part of it and to be involved in an exciting industry.  One thing that makes this programme so special is the access to such a variety of people in the primary industries.  Everyone has been very approachable and willing to share their knowledge, experience and insights." The self-confidence I developed through the Programme, along with the networks I've gained have been instrumental in helping me to take action with my report recommendations and get out there and do some industry good in the primary sector."
"This journey for me has been about becoming effective - an effective colleague, leader and contributor to the food production sector.  I've learnt to be the "change" and not to let perfection get in the way of progress.  It's all about being willing and able to contribute.  I feel a certain amount of duty to contribute to the progress and solutions facing our sector.  It's up to us, together.  Be effective.  Be the change. Thanks for a great course!"
"Through the Kellogg programme I've developed more confidence in dealing with my peers and contractrors and how to back myself.  I learned what is happening within the wider primary sector and how the Government cogs work in Wellington.  Networking with leaders from within the  primary industries has been invaluable to me, along with the lifetime friends I've made with participants on the programme."
Scott Andrew, (2019 Kellogg programme)
"If you're thinking about doing a Kellogg, then JUMP IN! Don't look for inspiration, you be the inspiration in your field – this is what I learned from doing a Kellogg! The networking opportunities, and access to global agricultural and wider industry leaders was a key part of the programme. My  cohort energized me and challenged my viewpoints. You won't leave a Kellogg without  having a few lifelong mates in tow."
Caroline Letham, (2019 Kellogg programme)
"I was inspired to do the Kellogg Programme because it provided me with an opportunity where I could re-engage in ongoing learning without having to go back to University (having been out of study for some time).  A big takeaway from the Kellogg programme was having access to industry leaders and how ready they were to speak to me and build relationships.
The self-confidence I  developed through the Programme, along with the networks I've gained have been instrumental in helping me to take action with my report recommendations and get out there and do some industry good in the primary sector."
Lisa Portas, (2019 Kellogg programme)
"Participating in the Kellogg programme has provided me with greater confidence to challenge myself and to go out and challenge what is happening in the wider community. The network of Kelloggers and leaders in industry is hugely rewarding and I look forward to utilising these going forward."
Cam Brown (2015 programme)
This is truly one of the best things I have done for my own personal development but also for my career in agriculture. Not only the content within the courses, but also the networks made – are priceless. 
Johanna Scott (2016 programme)
"The Kellogg Rural Leadership Programme is something I would recommend to anyone who has ambitions of making a difference to the primary industry. The skills that I have learnt, the story-telling that I have heard, and the networks that I have gained will be invaluable in the pursuit of my goals. The Kellogg Rural Leadership Programme is a life changing experience."
Jeremy Anderson, CEO, NZX Agri (2015 programme)
"As a young female in the agriculture industry the Kellogg Rural Leadership course has provided me with the networks and confidence to excel within my career and to help others. The project enabled me to research and take the outcomes a level deeper to make a difference in the agriculture industry. The course is inspirational and highly recommended to young females to participate in"
Kirsty Stratton, Relationship Manager, Commercial and Agri, ANZ North Otago (2015 programme)
"The Kellogg Rural Leadership Programme is the most satisfying course I have completed since university. The programme pushed me to my limits on occasions, the results of being pushed was for the benefits of my personal development. I strongly recommend the programme if you want to develop your personal leadership and business skill and create a progressive network within the agricultural sector."
Richard Sutton, Australian beef industry foundation Scholarship, Farmer King Island (2015 programme)
"I have found the Kellogg Programme to be an incredibly stimulating course.  It has been a fantastic opportunity to meet a wide range of like-minded individuals who are keen to have an influence on the rural industry.  The course has given us the opportunity to not only build on our individual skills and knowledge, but also to develop valuable networking relationships and friendships.  Kellogg's has also provided a great platform to gain key learnings from today's industry leaders, whilst also challenging our current thinking encouraging us to "think outside the box". 
Together we have been able to question our rural industry leaders to further our own learning.  To have the time and a forum to discuss some of the issues facing the rural sector has left me with an increased passion for the industry I am currently involved in.  We have been encouraged to be the people who take the rural industries we're involved in forward, and to deliver the next level of returns for NZ. 
We have also been shown and given the chance to learn about the challenges of leadership across the political spectrum.  The opportunity to discuss the challenges facing NZ and how we can go about changing the future for NZ has been fantastic."
David Kidd, Farmer, 2014 Young Farmer of the Year (2015 programme)
"My experience of the Kellogg Rural Leadership Programme has given me the chance to pop my head up above the parapet and see what's going on around the wider industry, to meet and connect with some amazing people, who I know will be lifelong friends and an important part of my network in the future, and to challenge myself both personally and professionally. The project I completed will provide real value to me, my team and the wider business, and I hope will contribute to transforming the way we work."
Chrissy Stokes, Manager, Zespri (2015 programme)
"My project has given me the knowledge and the confidence to take some big steps forward in the area of representation. The advancement of my presentation skills has coupled in with this."
Dennis Barclay, LIC (2015 programme)
"The project I completed as part of the Kellogg Rural Leaders Programme now forms the basis of my career. The project itself is a resource that is being used across the agricultural industry and has given me access to a huge range of valued industry contacts. For me, the course was a profound experience that I regularly reflect on and refer back to. Being part of the Kellogg network is hugely rewarding and provides me with the support to continually step-up."
Erica van Reenen, Environment Extension Manager, Beef + Lamb New Zealand (2012 programme)
"My Kellogg Rural Leaders experience has been pivotal, providing new insight into many of the different dimensions of primary industry leadership, operations, governance and politics. Learning with a group of like-minded people was motivating and they continue to be close friends and a valuable network. My participation, at the age of thirty two, gave me greater skills and a deeper understanding that have been essential for the roles that I have had. We can all be better all of the time and Kellogg equips us to do so."
William Morrison, Director, Morrison Farming (2010 programme)
"I had wanted to attend the Kellogg Rural Leaders Programme for a number of years because of the consistent, positive image it has in the wider rural community. It was always going to be challenging and so I waited until I could get the maximum benefit from the process. I attended when I was transitioning from deputy chair to chairman of a utility board. The programme provided me with many insights into how I operated in these roles, how I could improve as well as where my strengths in leadership lay. Communication techniques, self reflection and networking are three major areas of the course that have had a positive impact on my work. An added benefit is the respect this course, and alumni, have within the industry. The Kellogg Rural Leaders programme requires discipline, commitment and the willingness of participants to be pushed out of comfort zones. Those prepared for this ride, will gain many benefits to their professional careers and personal achievements."
Clare Kearney, Company Chairman
"I was fortunate to be part of the 2009 Kellogg programme. The programme certainly found, tested and pushed us beyond our comfort zones but at the same time taught us the skills and techniques, to manage in these situations. Being in an environment with the opportunity to question, discuss and debate issues and opportunities with a wide variety of industry leaders, politicians and fellow participants is certainly a unique experience. The Kellogg experience will leave you with the skills, knowledge and desire to take the lead. When dealing with and managing people, understanding the different learning styles and the preferred communication styles, learnt through Kellogg's has been a real asset. The Kellogg network has been and will continue to be a huge help to me in my roles. The contacts made and the contacts and knowledge they lead to are huge and widespread and have proved invaluable to me on many occasions. I would strongly recommend applying for the opportunity Kellogg's offers."
Boyd Macdonald, General Manager, Lone Star Farms Ltd
"Everything that happens during the Kellogg year is designed to test, teach, challenge and expand your potential. The effort you put into the process is equivalent to what you take away. Kellogg's enabled me to learn and apply appropriate research techniques and be supported academically during this process. The research project I undertook was the genesis of further work and research that led to the formation of the Agri-Women's Development Trust. Two of my fellow Kelloggers have been involved as Trustees, and members of my cohort year have provided ongoing support. At a recent meeting, a fellow director said of me "This girl doesn't know what a closed door means." It wasn't a comment on my tenaciousness; it was the Kellogg process in action. How to open doors, communicate and start engaging in an effective, respectful way that allows both parties to advance."
Lindy Nelson, Founder-Executive Director Agri-Women's Development Trust
Our programmes work in partnership with some of New Zealand's leading agribusiness organisations – click here for more.​