Welcome to the April issue of the Rural Leader, we hope you had a relaxing break over Easter and ANZAC weekend. 
Rural Leaders was deeply saddened by the loss of David Nottage to illness on Tuesday 12 April. David was devoted to improving the public speaking ability and the confidence of people across many industries, inside and outside of the primary sector. Alumni he taught will recall his intellect, kindness, and devotion to his craft. Lisa Rogers talks about David and his time in the Rural Leaders' family. 
In this issue we share the latest release of the Kellogg Research Reports from the recently graduated Kellogg Lincoln Scholars. Reports covered five broad categories: people and communities, technology, business, the environment, new directions in food and nutrition.
Kellogg Lincoln applications close this Sunday at midnight. If you know anyone intending to apply, or anyone who should apply for the last intake of 2022, this is where you give them a gentle reminder to get their application in, fast.  
Kellogg Whanganui phase one gets underway on 3 May. We're excited about this one. In partnership with Whanganui and Partners it's another piece in our push to help further grow rural leadership capability across the country.
After a Covid related postponement, the Value Chain Innovation Programme is set for 18 September. This is a unique programme offering participants the opportunity to access a range of value chains and the leaders who work within them. 
Our search for 2023's Nuffield Scholars begins in the coming weeks. We encourage alumni to reach out to those they believe would make strong scholarship recipients. We talk more on this years' search and the alumni who kindly agreed to help.
In our Podcast, Ideas that Grow, we hear from Dan Shand, 2014 Nuffield Scholar, on how he is using drone technology to improve the performance of Island Hills Station, near Culverden, in North Canterbury.  
We share a video from The Leadership Development Centre of Chris Parsons, NZRLT CEO. Chris was invited to speak to a recent cohort of the Leader of Leaders Development Programme. Chris shares his leadership journey on the above link.
Stay well, and we hope you enjoy this issue of The Rural Leader. 
The Team at Rural Leaders. 
Dan Shand:

Learning to fly – drone technology on farm
Dan Shand, 2014 Nuffield Scholar talks about the value-add of drone technology on his farm. From spraying legumes to mustering, drones have transformed the way Dan farms Island Hills Station near Culverden, in North Canterbury. 
You can also read his Nuffield research report here:
Leadership insights from Chris Parsons, CEO, New Zealand Rural Leadership Trust
The Leadership Development Centre's new Leader of Leaders Development Programme includes regular guest speakers talking to specific development priorities in the programme.
A recent cohort had Chris Parsons, Chief Executive, New Zealand Rural Leadership Trust share his leadership journey and insights.
Here's some highlights from Chris' talk including his answer to the question: How do you manage technical experts if you're a generalist leader?
Rural Leaders was deeply saddened by the recent and sudden passing of long time Kellogg presenter David Nottage. 
Over the last seven years – David had been a regular and crucial part of the Kellogg and more recently the Nuffield Scholarship programmes.  
A World Champion public speaker, and in the business of coaching for public speaking for over 30 years, David was a firm favourite with Programme participants for his wit and delivery style. He made a day of learning how to present and speak in public a memorable and enjoyable experience.  
The gales of laughter that could be heard coming from the room while he was working with the group was a true indication of his ability to connect on very personal level.  
He was always rated by the programme participants as a highlight and referred back to time and time again over the six months of any given Kellogg Programme.  
Rural Leaders will miss him greatly, our team had come to know him well over the last few years.  
Our thoughts are with his wife and business partner – Julie Nottage (Raine) and his team at Torque business.  
The David Nottage Foundation has been set up to fund public speaking scholarships and to contribute towards the Hibiscus Hospice. 
It is David's wish that his legacy of high-quality training continues. His wife Julie will ensure this happens.
Lisa Rogers and the team at Rural Leaders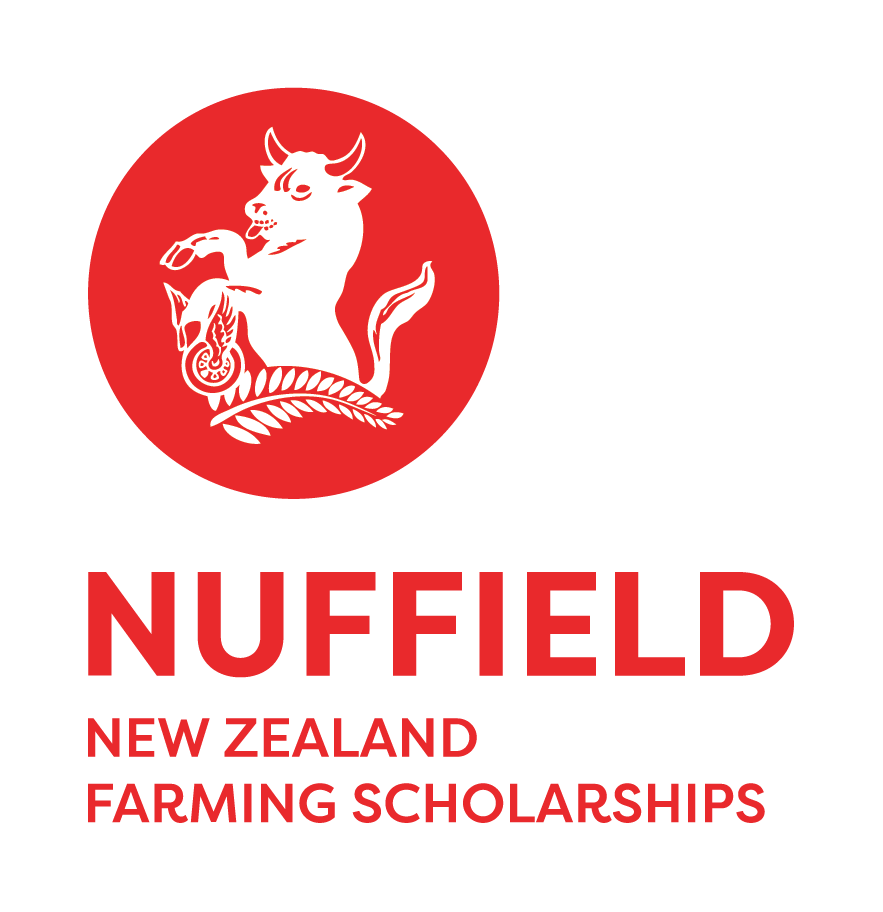 Finding the next Nuffield Scholarship recipients.
Nothing stays still for long with Nuffield. It seems like we've only just introduced 2022's Scholars and soon the search for 2023's Scholars will get underway. As part of this search some strategic work has been done, among other things, on scholar attributes.  
We also embarked on a photographic shoot to capture alumni across a range of industries. The images will be used to spread the word about Nuffield as we look for 2023's Scholarship recipients.  
Next week we'll be reaching out to alumni to ask, "Who will you be putting forward?" for 2023's Scholars. In the meantime, start to think about the people in your networks you think may have the attributes we're looking for: bold, community-minded, perceptive, innovative, and motivated.  
You can read more about our Nuffield Scholar attributes and view a few of the images captured of alumni here. 
Where it started - Value Chain Innovation Programme.
The new Programme's genesis 'The Global Tour of New Zealand' was found in the need to expose Nuffield Scholars to a cross-section of food and fibre operations while constrained by international travel restrictions.  
The Value Chain Innovation Programme 2.0, will start in September and promises to be an action packed, deep dive into value chains not normally easily accessible.  
You can read more about the programme, including comment from the world-class facilitators here. 
If you have any questions, please don't hesitate to contact Programme Manager Lisa Rogers at lisarogers@ruralleaders.co.nz or call 021 139 6881.
Last day to apply for Kellogg Lincoln – June 21 start.
The last intake for 2022 closes this Sunday at midnight. It's time to dig deep and get your application in. If someone in your network should be applying, why not offer to be their referee (they need a couple).  
Here are the key dates for the programme.
Kellogg Lincoln – latest research reports available.
Scholars on the 45th Kellogg Programme recently graduated. They delivered a range of research reports falling into five broad categories: People and communities, technology, business, the environment, and new directions in food and nutrition. 
This was also our first cohort of scholars to complete a post graduate certificate in commerce from Lincoln University – in addition to their Kellogg qualification.  
Here are their reports. Feel free to read or download those relevant to you or any you find interesting. 
Alumni in the spotlight: Kellogg Scholars on The Country with Jeremy McKay
Some graduates from this latest cohort have been interviewed recently by The Country. Both Anna Benny and Caroline Batley handled themselves well in what was their first, or near to their first, interviews for radio. You can listen to them speak to Jamie below.
Anna Benny on the future of dairy and nature-identical animal free proteins.
Leveraging precision fermentation technology has resulted in nature-identical animal free whey protein becoming commercially available in the US, with many companies working on animal-free dairy launches over the next couple of years.   
New Zealand can't afford for our dairy industry to become the next 'Kodak' and assume that our high-quality products will be in demand forever – viable alternatives are coming. The actions we take as an industry in the next 5 years will impact our country for years to come.

Caroline Batley on the future of rural services
Since the 1930's rural communities have experienced a decline in services, as hospitals, police stations, banks, government departments, educational facilities and clubs have exited rural New Zealand.  
This report provides policy solutions to address the decline of services, to ensure that residents in rural areas continue to thrive in the future. The report focuses on outcomes primarily in healthcare, education, banking, and community hub arena.
When Kelloggers collaborate – Hemprino.
Siobhan O'Malley, Paul Ensor, and Harriet Bell, who completed the 2018 Kellogg Rural Leadership Programme together, have joined forces to bring the clever new, well-resolved and environmentally minded wool blend innovation 'Hemprino' to market. 
Blending hemp fibre with merino wool, Hemprino™ is an innovation, drawing on a past era when things were valued and had an extended lifetime of use – an antidote to fast fashion. 
You can read a recent NZ Herald article and listen to the podcast here.
Or check out the Hemprino website here. 
We are launching a private Facebook group for you​ to stay in touch.
We've launched a new private Facebook page and next week we'll email alumni to join.  
 
NZ Rural Leaders Alumni is a private Facebook page and a place where Nuffield, Kellogg, and Value Chain Innovation Programme alumni, can hold primary sector discussions, share industry content, connect, and more.
From time to time we'll post updates about upcoming industry gatherings like Fieldays and BOMA, as well as Rural Leaders alumni events.  
 
Feel free to arrange your own alumni get-togethers here too. As a private page, anything posted is shared only with members of the group.  
Early Bird tickets for E-Tipu 2022: The Boma Agri Summit, expire 1 May.
Set for 21-22 June in Ōtautahi Christchurch and virtually, E Tipu 2022: The Boma Agri Summit brings together remarkable speakers and changemakers to share mind-blowing insights, ignite vital conversations, and help shape the future of Aotearoa's primary industries. 

Read more here to find out how to get exclusive Rural Leader reader discounts. 
ILAC conference in Annapolis.
On behalf of the entire ILAC 2022 Host Committee, I'm excited to be sharing with you an opportunity to take a deep dive into the diverse ag industry that can be found in Maryland and Delaware all the while learning about the tremendous efforts our producers take to ensure a thriving farm economy and a healthy environment coexist throughout the region's landscape. 
  
Mark your calendars for July 31 – August 4, 2022 when LEADelaware and LEAD Maryland will be hosting the International Leadership Alumni Conference (ILAC). The conference will be hosted out of Annapolis, Maryland and we will be sharing how our producers are "Leading from Bay to Bay." 
  
To get a better idea of potential attendance, would you mind taking a few moments to complete this brief survey?  Please click here.  
  
To learn more about the conference hotel's group rate and amenities, as well as its historic downtown Annapolis location, please click here.  
  
For additional questions, don't hesitate to reach out via email to me at kfuchs@mafc.com.  
  
Thanks so much and we hope to see you Annapolis! 
Kurt Fuchs
We're looking for your top shots.
You can probably spot a stock image a mile away, right? We think there's nothing better than the authentic photos you've taken – to celebrate our sector. Especially the good ones. We're after the shots you're happy to share with us of your primary sector experiences, here or abroad. 
These could be on-farm, from businesses across the value chain, or any shot you think exemplifies the primary sector, its people, and its many textures. 
This isn't a competition. Quite honestly, we just need more imagery. Can you help us out? Here's a few shots others have shared with us recently. 
Fire shots (at least 1mb file size) through to Denitsastoeva@ruralleaders.co.nz 
Call to all scholars: Update your details.
It's important for us to keep your contact and other details up to date. Please take a few minutes to fill out our form by clicking on the relevant logo below. This information will not be used outside of our organisation without your permission. Thank you.
We'd like to know what you think of the Rural Leader and of you have any ideas on how we could improve it.
Our programmes work in partnership with some of New Zealand's leading agribusiness organisations – click here for more.​