Welcome to the October issue of the Rural Leader.
We're happy to announce that the selection process for 2022's Nuffield Scholars is now almost complete. We're looking forward to making an announcement in early November. However, the ongoing pandemic disruptions will mean the formal awarding of scholarships is postponed until early next year.
Despite the interruptions this year, interest in the Nuffield Scholarship remains very strong. We're very pleased with the number of applicants and their calibre.
All phases for currently running Kellogg programmes have also been rescheduled, though we hope to complete the first regional programme before Christmas.
Applications for 2022's Kellogg Programmes are coming in thick and fast. The level of interest in the Value Chain Innovation Programme is already high as well.

So, this is our official 'don't wait too long to apply reminder' if you're thinking about doing either programme.
In this issue of the Rural Leader, our podcast 'Ideas that grow', talks to Lincoln University's Professor Hamish Gow. Prof. Gow is a leading expert on value chains, entrepreneurship, and trade.
In Alumni in the spotlight, we hear from 2016 Kellogg Scholar Kristy McGregor about her recent entrepreneurial journey launching Shepherdess Magazine.
And we look at three Kellogg reports from 2020, all well worth a read.
We hope you enjoy this issue.
The Team at Rural Leaders.
Prof. Hamish Gow: Value chain thinking.
In this month's episode, Bryan talks to Lincoln University's Professor Hamish Gow, a leading expert on value chains, entrepreneurship, and trade.
At a time when nimble innovation and entrepreneurship are needed to meet a fast-changing food and fibre sector, Hamish unpacks value chains, trade and talks about the new Value Chain Innovation Programme.
Interest is high for all the 2022 Kellogg Programmes.
If you're making professional development plans for 2022, check out our website here. For any queries contact Programme Manager, Lisa Rogers at lisarogers@ruralleaders.co.nz or on 021 139 6881.
Three must-read Kellogg reports.
Last month we shared 2021 Kellogg graduate reports from Kathryn Reid, Greg Hamill, and Madison Pannett. This month we share a few more reports, this time from the recent past.
Back to the future: Harnessing the value of diverse dairy farming enterprises.
Juliette Maitland, 2020 
This report explores dairy's readiness to capture the potential multi-dimensional value of diverse enterprises across the value chain. 
Connection: What are the social and cultural outcomes of peri-urban catchments?
Richard Ridd, 2020 
Catchments that pass through, or border an urban centre – peri-urban catchments are explored in terms of their connection to nature and people.
How might government better understand farmer perspectives?
Alby Hanson, 2020 
A report looking at the opportunities for understanding both the publics' and farming's perspectives and improving the way we all collaborate on complex problems.
The Value Chain Innovation Programme.
The primary industries are going through the biggest period of transformational change since the 1980's.
Add a pandemic to this and the need for a pan-sector view of value chains across industries to compare and transpose smart thinking, has never been more vital.
Programme Dates.

11 January – 20 February 2022
Applications close: 28 November 2021.
A rural connection.
2016 Kellogg Scholar Kristy McGregor talks about her wildly successful foray into publishing.
Kirsty's 'Shepherdess', an unashamedly female focussed magazine, has hit the right note with its stunning photography and thought-provoking writing.
Calling Future Leaders –
AGMARDT Leadership Scholarship 2022.
AGMARDT is looking for New Zealand's future agribusiness leaders.  
So, AGMARDT is excited to invite applications for its Leadership Scholarship. This is not just about enabling outstanding individuals to advance their management, leadership or governance skills and take on future roles within agribusiness. It's also about empowering fresh thinkers who look beyond convention.  
If you know someone who is ready to develop their skills and ideas to help lead the future, please ask them to apply before October 31 at https://applications.agmardt.org.nz/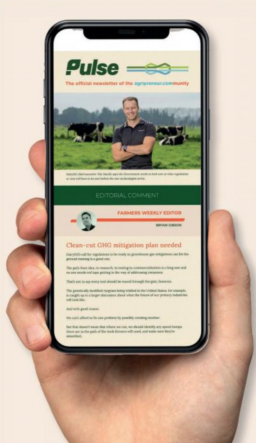 Global HQ – Exclusive Rural Leaders readers, Pulse discount offer.
Rural Leaders' Service Partners GlobalHQ, have recently added 'Pulse' to their line-up of publications.
Pulse is a daily newsletter that informs and connects the primary sector with in-depth news and commentary, straight from the Farmers Weekly, WeatherWatch and AgriHQ newsrooms.
Sign up to Pulse before September 24th and receive a 50% discount off your yearly subscription, making it $90 + GST instead of $180 + GST.
Activate this offer before 22 October using the promo code Rural Leaders2.
CLICK HERE to subscribe to Pulse. You can view a sample of Pulse here.
Call to all scholars: Update your details.
It's important for us to keep your contact and other details up to date. Please take a few minutes to fill out our form by clicking on the relevant logo below. This information will not be used outside of our organisation without your permission. Thank you.
Our programmes work in partnership with some of New Zealand's leading agribusiness organisations – click here for more.​