Singapore – Japan – Indonesia – France – Canada – United States
Hello Nuffield family,
Having just finished six weeks of GFP travel through Singapore, Japan, Indonesia, France, Canada and the United States there is so much to think about and say, so many emotions, so many memories and so much information.
To echo those that have gone before, it is exciting, busy, hard work, the time of my life and a real honour to travel the world as a Nuffield Scholar, the places visited and the opportunities afforded are exactly what we were told but did not necessarily believe. Prior to the GFP I had spent a month in the United States on my own and I was in a great head space for travelling and excited about everything that lay ahead. The time spent prior taught me some valuable lessons about engaging with unknown people and how to get the most out of every opportunity along the way. One key thought for me throughout has always been that the only stupid question is the one you didn't ask.
Singapore
Our GFP started with two groups of ten scholars in Singapore for three days. Having met each other at the CSC in Ames, Iowa in March, I think we were all eager to catch up with each other and it was great way for our tour to start. Two days of formal meetings gave us much insight not only into Singapore itself but also a good overview of how the economy and trade works in Southern Asia. It is no accident that Singapore is the powerhouse it is, successive governments have recognised that the relatively small size of the country make it incredibly reliant on others for survival and they have used this to their advantage by staying a neutral player in the politics of the region and attracted other countries to use them as a brokering base. It seems that most multinational companies and countries have an office in Singapore.
Japan
From Singapore we flew to Japan for ten days where we spent time in the North Island of Hokkaido, around Tokyo and in the southern Island around the city of Miyazaki. The Japanese are very particular about the food they eat and it can be seen everywhere in the quality of the food. As a country they depend on imports for 60% of their food and the first assumption is that local agriculture would be in a strong position.
However we were interested to find out that the truth was very different. Ageing farmers and no replacements is agriculture's biggest problem. The average age is 68 and they work farms with an average size of 1.2ha. Current estimates have abandoned farm land at around one million ha.
Japan agriculture is controlled by a farmer co-operative and it is the biggest lobby group in the country and the biggest influencer in government. They have control of the entire value chain including finance and have even a funeral division. What was interesting was to see first hand what was set up to help farmers is now crippling them by stifling innovation and guaranteeing those that don't break even. There are of course exceptions and exact numbers were hard to get but Waggu beef for example can gross as farmer between $12-$15,000.
Japan was the first chance for our group to establish itself as a team of people rather than a group of individuals. Ten days in a country where English is not spoken at all certainly ensured we learned how to get along quickly with each other as even the simple things in a foreign country require trust and teamwork. Culture and traditions are very important to the Japanese people. It is remarkable for a country with the population it has to be so ordered and clean. It is very noticeable in public how quiet the people are and it is a real contrast to other parts of the world. The country does appear to be in decline, an ageing population and a declining population can be seen everywhere and there is a feeling of tired infrastructure
Indonesia
From Japan we flew to Indonesia and had two nights in Jakarta. Where Japan was civilised, quiet and clean, Indonesia was everything but. Comparing the two countries almost everything is the opposite, where in Japan trains travel at 300km/hour, in Indonesia it took five hours to travel 135kms by bus. This is classic example of how difficult the logistics of business can be especially in such a populace place. Geography is a major hurdle to growth, the country has over 17,000 islands, 8000 of which are inhabited.
Chaos reigns in Indonesia, there are 77 million motorbikes registered and at times its as if they all on the road at once. Indonesia is very much a developing country and is recovering from years of political corruption and one quote we were given is that loyalty is only as good as hunger and it is clear to see the years of neglect. In many respects the country is third world with many people living a subsistence life and the farmland is dominated by very small holdings of land worked by people with no mechanisation other than a motorbike.
Rice is a very big crop and a staple diet. The intricate network of small fields and the water channelling systems maintained over generations was great to see and one of the highlights of Indonesia. It was fascinating to see amongst the chaos and subsistence farming operations big feed lots, a new 5000 cow dairy farm with plans for a second and a shrimp and rice factory producing over fifty lines of food items and exporting them around the world. As an interesting contrast, the population generally are very poor but they all have smartphones including the children. An amazing example of scale and how it can effect supply price.
Indonesia is a very complex and a very religious country, the call to prayer can plainly be heard at times through out the day and the girls in our group were warned several times about covering their legs. The scenery is quite something, every square meter of available land is used for farming including near vertical hill sides.
France
Our next stop was a week in France including a day off in Paris which we all put to good use by seeing the sights and a week later we flew out of Toulouse in the south. For me France is all about tradition that has been in place for generations. Tradition that sees their farming and their food system relatively unchanged because the demands of the consumer haven't changed. Fresh bread every day, cheese, coffee, wine and meat and two hour lunches dictate the terms in France.
It was interesting to be there pre Brexit. The French people are of the opinion that the EU imposes too many rules but the common trade and open border policy has many benefits that outweigh leaving. There is much to be admired by the attitude of the French and their work life balance seems to be ingrained in their psyche.
Nova Scotia, Canada
From France we went to Nova Scotia and of all the places we visited it was not what I expected at all. When you think of Canada you think big scale, Nova Scotia was quite the opposite. The province is almost an island and as such has a very maritime climate but it is far enough north that it has very cold winters. It is a land of many lakes and is over 70% tree covered. We encountered very small scale farming, dairy, beef, horticulture and fishing. In the case of dairy farming it was a real step back in time, we saw cows with collars and chains around their necks that are milked side by side in free stalls at ground level. We also had a visit with Dairy Farmers of Nova Scotia, the governing body in the province and among other things had an explanation of supply management and quotas.
From the outset Canada does not wish to export any dairy product due to trade obligations of other commodities and it produces only enough for itself and here the supply management system is born. To discourage over production the farmer price is set at breakeven point for the 50th percentile of farmers. We were told that this system is the envy of the world however our very quick conclusion was that from the outset the system that the farmers support sets 50% of them up to fail and ultimately stifles progress and innovation.
Horticulture is a big industry in Nova Scotia and we spent a lot of time looking into it and it is a success story due to some very clever marketing by the farmers. Some years ago, two Nuffield scholars and many others organised themselves to each specialise in a particular crop and pool the produce as a way to minimise internal competition from the supermarkets. The biggest surprise from Nova Scotia was wild blueberries. This native plant grows wild anywhere the forest has been cleared and they are grown on a huge scale, the industry is 80,000 hectares plus in the province alone and worth around $80 million annually.
We were billeted out with Nuffield Scholars for four nights in Nova Scotia, I stayed with Richard Melvin, a scholar in the 70's and his wife Jaqueline. They arranged meetings of various groups and organised a farmers dinner for our group at a state park in which I gave an address on the history of the Nuffield Scholarship and what we were seeing around the world as a way to inspire some young farmers to think about applying.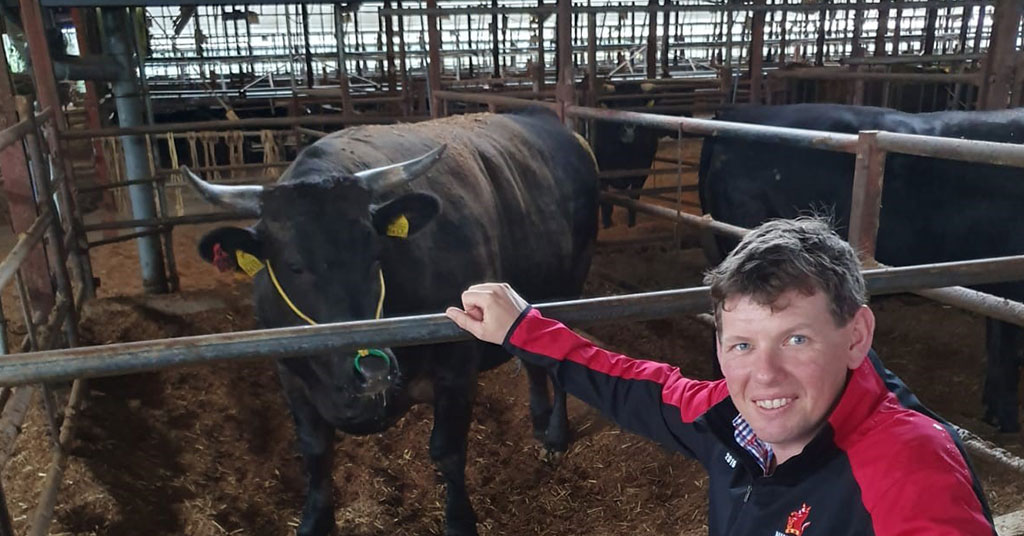 Washington DC, United States
From Canada we went to Washington DC for three days including one day off. If ever there was a city worth visiting, Washington DC has it all and it explains some of my thoughts about the patriotism of the American people. The district of Columbia that houses all the government is full of amazing buildings, monuments and gardens and is very grand. The national museums are all incredible dedications to history of this very proud nation.
A highlight of our time in Washington DC was meeting the other GFP group and seeing that they had also developed into a very tightknit unit and clearly all enjoyed each others company. We spent two days in meetings with the USDA, Bayer, Syngenta, the Australian embassy and Senator Chuck Grassley from Iowa who gave us forty minutes of his time.
The American political system is very complicated and is near impossible to understand but the country is such a powerhouse that its political system should probably reflect that. Every country we visited was worried about the trade war with China and the US and where it would end.
West Virginia, United States
Our last week together was spent in West Virginia which upon reflection is not a wonderful state to be farming in. The landscape is dominated by 75% Oak and Maple Forest and the terrain is very mountainous. As a result the state is not known for its agricultural output but we did look at a large amount of operations and industry thanks to West Virginia University Extension Service and the USDA Natural Resources Conservation Service. The NRCS will subsidise a lot of on farm improvements if they are deemed to benefit the environment, fencing, water systems, wintering sheds for cattle, handling facilities etc and we looked at some of these projects. One shock was most farmers in West Virginia work off farm, and growth is not on the radar at all. The shale gas industry is a very big player and has artificially inflated prices of land.
In every country we visited the lack of young people entering agriculture was a big concern. In Japan, West Virginia and to a lesser extent Nova Scotia, there is a lack of farmers in general, land sitting idol and wasted potential. Young people everywhere look at farming as a life of committed hard work and a salaried job in the city is a more enjoyable existence. The three mentioned places appear to be grappling with tradition and struggle with the concept of simply trying something else.
In Japan the successful farmers have broken away from the overarching co-op and selling direct to market. We saw very small dairy farms in Canada (less than 60 cows) that were very defensive of the same quota system that is holding them up from expansion. In West Virginia I gave a talk to a group farmers and politicians on our final night there about what we had seen and how to make farmers profitable and attract young people. My answer was polite but blunt, to be successful you must be clear on your business intent, intent breeds good decisions and good decisions result in good outcomes, try new things, ask for help, focus on the basics.
For young people to get involved it needs to be attractive to them. It was tricky to be tactful but it seemed to our group that the USDA in its kindness is subsidising the status quo and similar to the quota system stifling farmers own ability to innovate. Everywhere we have been the very successful people are the ones that have the courage to look critically at what they are doing and make changes as required.
There is no hiding from the word environment, with the exception of France and West Virginia we encountered very little action or even discussion on anything to do with soils, water or the climate. West Virginia was the only place where conservation was considered as important. It is easy to be defensive of what we do in New Zealand but I think we do very well in this space and we will continue to improve. In terms of climate change France was the only country visited that is doing anything about it and that was via EU regulation, as far as we could tell it is not on the radar of many people although extreme weather is a frequent talking point.
The six weeks of GFP was so much more than I hoped it could be for so many reasons and I have so many memories of places and people. Our group went from 10 individuals to a very tight group of organised and cohesive people. I think we all come away from the shared experience with a huge amount of knowledge not just about agriculture but about ourselves and the need for empathy for those around us.
We also need to constantly clarify what we are doing and the directions we are going in.
To move forward in business and in life the big take home from me from the GFP is understanding your why, why are we farming? Why are we growing, what we are growing? Why are we living where we live? The successful farmers and business people we visited around the world clearly new the answers to these questions and were driven as a result of that simple question, why?
As an ambassador for New Zealand over the past six weeks it is incredibly humbling to be told a lot about how great our country is, even by people who have never been but want to. It is hard to fathom how we manage to pull our weight on the international stage as much as we do considering the distance to markets and the machine that is international agriculture and trade. The entire food system is very complex and is so different between and even within countries.
For New Zealand to continue to prosper we need to be ever mindful of our image to our customers overseas. We can be leaders environmentally without effecting production or farmers livelihoods as long as we strive to be better tomorrow than what we are today and not being afraid of making mistakes while making progress.
I have been extremely proud to travel as a New Zealander in a group of nine others and we have been to some amazing places and seen some amazing things together. I couldn't have asked for a better group of people to be travelling with and I have made nine lifelong friends I am sure.
At the very forefront of all of our learnings and what my Nuffield experience has taught me is the importance of three things in our industry. Agriculture, Food and People: For agriculture to prosper we must embrace the needs of the people we are producing the food for and they should be in the forefront of everything we do. I come home from my time away very grateful to have been given the experience, keen for more and very proud to call myself a Nuffield Scholar.
Read the rest of the Global Focus Programme reports: